UNETEC is a Multi Disciplinary Firm having staff with design experience in a number of fields and having undertaken projects in various Middle Eastern and African and Asian Countries and the Caribbean.
To maintain the high standard of professional services it offers, UNETEC employs highly qualified personnel, all members of their respective societies or institutes.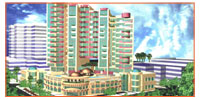 During the period of growth, UNETEC broadened its range of professional services to meet the growing demand. The Multi-Disciplined project teams comprising of professionals from various nationalities allows UNETEC to organize and manage projects right from concept to completion, from the feasibility
study stage straight through design and construction to satisfactory handing over. Their familiarity with laws and regulations, material, resources, regional and cultural problems, modus operandi of different Ministries in the operation of Projects is an asset to the Project's Management and team members.
In order to supplement the Firm's internal resources and to maintain contact with state-of-the-art development in all fields, UNETEC maintains a close association with international professional firms with whom it co-operates often, depending on the nature of the project and the very specialized expertise it may require. This ensures that the clients are given the best possible service in the specialized fields as well where UNETEC has developed an on-going capability. The combinations of a high degree of specialization in these cases and the base of a well established local consultancy has been extremely successful.

Before the invasion of Kuwait, UNETEC was actively engaged in many Projects with a total staff of 120, which includes Architects, Engineers, and Support Staff with Projects in Kuwait and Africa. It had carried out the design of embassies, residential and commercial complexes and infrastructure projects, and was busy engaged in the Telecommunications Tower in Kuwait (The Liberation Tower), with Electro watt of Zurich, Switzerland.
With its post-liberation rebuilding complete, UNETEC is at present carrying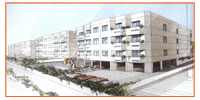 out diversified engineering activities in Kuwait, Asia, several African Countries and the Caribbean. UNETEC has proudly participated in the rebuilding of the Ahmed Al-Jaber and Ali Al-Salem Air Force Bases with strict regulation from the U.S. Army Corps of Engineers together with U.S. associate, Stanley Consultants. Having finished with the Design.

UNETEC's diversified involvement also covers projects of different nature like Roads, Highways, Bridges, Airports, Air Force Bases, High Rise Buildings-Commercial Towers, Government Buildings/Complexes, Hospitals, Medical Centers and Polyclinics, Resorts,, Marinas and Ports, Urban Centers and Infrastructure works, Public Gardens, Fire Training Aircraft Simulator.
UNETEC is currently executing a four-year Contract with Kuwait Oil Company, Ahmadi Redevelopment Team, for Local Consultancy Services in Project Management and Related Services. A number of projects are now completed/ under execution including Health Care Projects, Multi-Car Parking & Services Center, Improvement of Ahmadi hospital, Upgrading of Ahmadi Sports Ground and a number Feasibility & EIA Studies etc.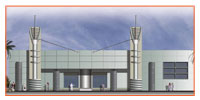 UNETEC is also undertaking for the following projects for Kuwait Oil Company :-

1- The Execution of the Architectural and Engineering (Design) for Fire Stations in North , South and West of Kuwait .

2- Management, design and supervision of the building for the new IT Group Center .
3- 3-5Km 4 Lane Road , The Engineering Services (Design) in North Ahmadi - Kuwait
UNETEC is registered and involved in numerous works for Funding Bodies such as Kuwait Fund ,BADEA, Arab Fund, Islamic Development Bank, World Bank, Saudi Fund, African Development Bank. It also maintains the membership of many professional Associations, beside the Kuwait Society of Engineers, such as ACE,ASCE,ACI,CSI, IEEE,ASHRAE, Institute of Engs. India and Egyptian Society of Engineer.
UNETEC is well up to date with all recently developed needs of the engineering world. In this regard, the firm has dedicated a small branch of its efforts towards the much needed environmental service sector, in order to support the growing environmental requirements related to pre - post development projects.
UNETEC's environmental experts hence offer a wide range of Environmental Assessments and Environmental Management Systems, including auditing, monitoring and control solutions for air, water, soil, waste, wastewater, marine, odor, indoor air, vibration and noise pollution impacts. UNETEC has a renown reputation in the field of "E.I.A.", for developmental projects, and has carried out numerous assessments in Africa, Asia and South America.
UNETEC maintains several satellite offices in Africa. We are proud to be the leading Kuwaiti consulting office with over 5,000 kms of highways/roads/bridges to our name.
UNETEC remains extremely proud of its work, reputation, international accomplishments and relations.